Jupiter
is the guardian of the inner solar system. Its powerful
gravitational field
draws comets and other space rocks away from Earth and its neighbors. We now under-stand how these small objects speed around the solar system far better than ever before, and it turns out that planetary collisions may be more frequent than previously thought.
Collisions between planets and smaller objects, such as asteroids and comets, have played an important role in shaping the solar system. Jupiter's powerful gravitational field has protected Earth from potentially catastrophic impacts, either swallowing such objects or flinging them to distant corners of the solar system. At the same time, Jupiter has undoubtedly directed some chunks of rocks or ice toward Earth, seeding our planet with elements needed for life and, occasionally, killing life. For example, a comet impact most likely wiped out the dinosaurs 65 million years ago.
Although frequent early in the solar system's history, these kinds of impacts are now relatively rare. But in 1994, the world witnessed an unprecedented event when comet Shoemaker-Levy 9 careened toward Jupiter. Astronomers had known about this rendezvous ahead of time and so were able to prepare, pointing as many telescopes as they could toward the gas giant.
When the comet approached Jupiter, it had broken up into more than a dozen fragments. During an earlier orbit around the Sun, the comet probably strayed too close to Jupiter and the planet's gravity pulled it apart. Everyone watched as pieces of the comet slammed into Jupiter's clouds, creating a string of giant, glowing plumes.
Collisions like this don't happen all the time, but they do pose a real threat to our own planet. It's therefore important to understand how often impacts occur. In fact, two more objects crashed into Jupiter in 2009 and 2010 – and these collisions weren't noticed until after the fact.
Interact with the hotspots below to learn more.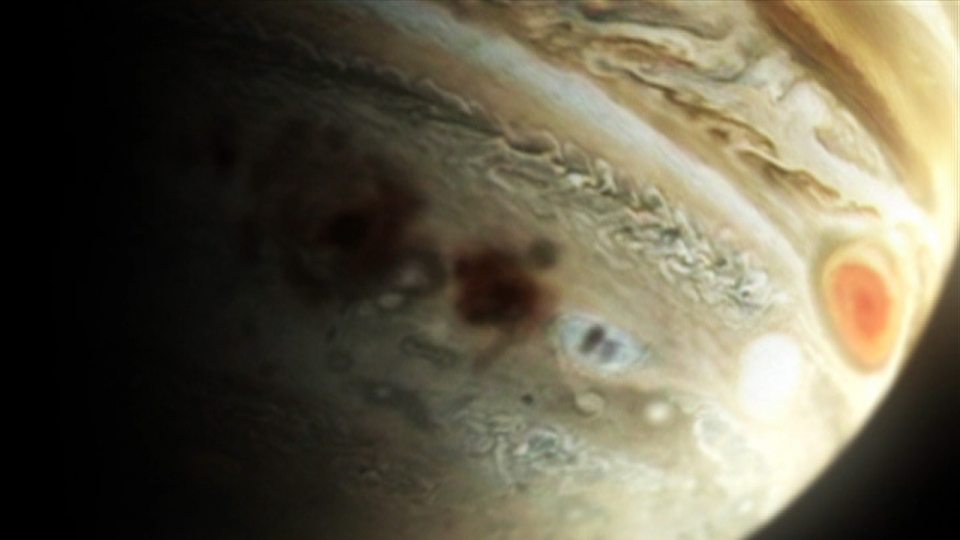 What Happened to the Impact Sites?




When comet Shoemaker-Levy 9 struck Jupiter, it left its mark. The comet's fragments created huge plumes that were 2,000 to 3,000 kilometers (1,200 to 1,900 miles) high, and heated the atmosphere to temperatures as hot as 30,000 to 40,000 degrees Celsius (53,000 to 71,000 degrees Fahrenheit). Shoemaker-Levy 9 left dark, ringed scars that were eventually erased by Jupiter's winds.

While the impact was dramatic, it was more than a show. It gave scientists an opportunity to gain new insights into Jupiter, Shoemaker-Levy 9 and cosmic collisions in general. Researchers were able to deduce the composition and structure of the comet. The collision also left dust floating on the top of Jupiter's clouds. By watching the dust spread across the planet, scientists were able to track high-altitude winds on Jupiter for the first time. And by comparing changes in the magnetosphere with changes in the atmosphere following the impact, scientists were able to study the relation-ship between them – relationships that Juno will continue to explore during its mission.


OTHER IMPACTS

Armed with sophisticated equipment, amateur astronomers are now monitoring Jupiter, improving the likelihood of spotting impacts.

THE WESLEY IMPACT

In 2009 and 2010, an amateur astronomer in Australia named Anthony Wesley discovered two new impact scars on the surface of Jupiter. Equipped with a high-powered telescope, Wesley is part of the new vanguard of amateurs who are enhancing our ability to monitor the sky. Small collisions such as these probably strike often, but only recently has technology enabled amateurs to spot them as well. By looking for these events and alerting scientists upon discovery, dedicated amateur astronomers around the world are becoming directly involved in exploration and contributing to science.


What if Shoemaker Levy 9 Hit Our Planet?




Comet Shoemaker-Levy 9 was probably captured by Jupiter's gravity in the early 20th century. In 1992, it strayed too close and Jupiter's gravity broke it apart.

Scientists have calculated that the comet was originally about 1.5 to 2 kilometers (0.9 to 1.2 miles) wide. If a similar-sized object were to hit Earth, it would be devastating. The impact might send dust and debris into the sky, creating a haze that would cool the atmosphere and absorb sunlight, enveloping the entire planet in darkness. If the haze lasted long enough, plant life would die – along with the people and animals that depend on it to survive.

These kinds of collisions were more frequent in the early solar system. In fact, comet impacts were probably the main way that elements other than hydrogen and helium got to Jupiter.

Today, impacts of this size probably occur only every few centuries – and pose a real threat.

The third photo on the right shows Arizona's Meteor Crater, also called Barringer Crater, which was formed when an iron-nickel meteorite struck Earth 50,000 years ago.